Why call James Madison Insurance for all your homeowner's insurance needs in Morrow County, Ohio?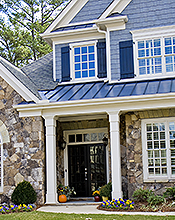 Are you a homeowner? If yes, you need to understand the importance of having a homeowner's insurance policy. The insurance cover will protect all your possessions and your home.
The insurance policy is a necessity. If you're purchasing a home using a mortgage, you need to acquire a homeowner's insurance policy. As a resident of Morrow, and surrounding Counties in Ohio, James Madison Insurance has got you covered.
Looking Into the Areas Covered by the Homeowner's Insurance Policy
The insurance policies are customizable. Nonetheless, there are some standard elements that the insurer is supposed to cover.
The standard elements covered by James Madison Insurance include:
1. Damage to the Exterior or Interior of Your Home
When your house incurs damage because of hurricanes, fire, vandalism, lightning, or any other disaster, James Madison Insurance will ensure you're fully compensated such that the house will be fully repaired. Depending on the extent of the damage, the house may need to be rebuilt. Some of the areas that aren't covered include destruction of your home from earthquakes, poor home maintenance, or floods. Nonetheless, if you want such type of protection, James Madison Insurance can facilitate all that.
Furniture, clothing, appliances, and different items in your home will be covered when they're destroyed, and they're insured. There is also an off-premises coverage, and it allows you to file a claim in case you lose valuables such as jewelry regardless of where it got lost. There are limits on the amount the insurer can pay.
2. Personal Liability for Injuries or Damages
The liability coverage by James Madison Insurance will ensure you're protected from lawsuits that other people have filed. For instance, what happens when your dog bites your neighbor? It doesn't matter if someone was bitten while at your place or their place. If you have an insurance policy, the insurance firm will cater to the medical expenses.
Although the homeowner's insurance policy is supposed to cover the areas where a loss has occurred, there are areas James Madison Insurance doesn't cover, including natural disasters such as earthquakes. We had earlier mentioned this. It is possible to cover some of these natural disasters; however, you need to part with a significant sum of money. Keep in mind these natural disasters don't occur as regularly.
How the Insurance Rates are Determined for the Homeowners Insurance Policy
James Madison Insurance will look into the claims filed by the homeowner in the past. The main focus is on the severity of the claims and the claim frequency. The insurance firm will be keen on whether there are many claims relating to wind storms and water damage before deciding on the final rates.
Although James Madison Insurance is there to cater to your claims, the firm is also here to make money. When insuring a home with numerous claims in the past few years, the policy rates will be higher.
You now have a better understanding of what the homeowner's insurance policy entails. For all your homeowner's insurance policy needs as a resident of Morrow County, Ohio, you can rely on James Madison Insurance, and they'll get you sorted in the shortest time possible.